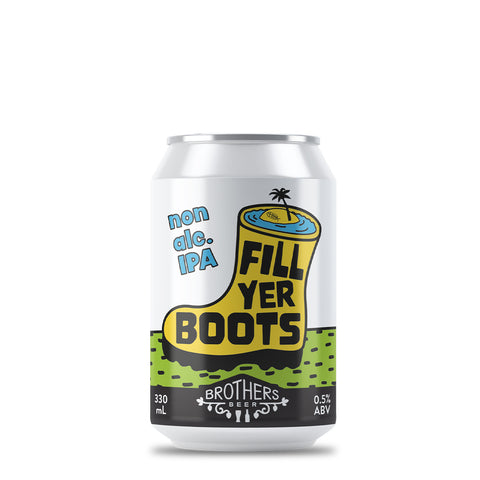 Fill Yer Boots - Non Alc IPA
$19.99
Fill Yer Boots
Non Alcohol IPA
Early start tomorrow? Off on a mission surfing, hunting or tramping?
Need to keep a clear head at your work do? Or just trying to be a little healthier?

Whatever your reason, we've got good news for you. The genius brewers at Brothers have produced a proper hoppy full-flavoured beer that is naturally fermented to be alcohol free.

Brewed in a hazy style and heavily dosed with Nelson Sauvin and Simcoe hops,
you can sip easy knowing you've made no compromise on taste.
When you want a clear head but have a thirst that only a beer can tackle…
Fill Your Boots!
ABV: 0.5%
Hoppiness: 4.5/5
Maltiness: 2/5
Enjoy a guided tasting with our head brewer Brandon here