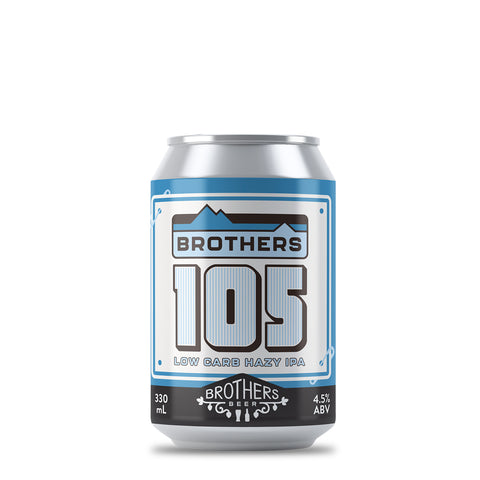 Brothers 105 - Low Carb Hazy IPA
$21.99
Brothers 105
Low Carb Hazy IPA
That's right - you put in work, eat your greens, count your macros, track your runs (and post them to Strava) but then.... there's beer. A pleasure that's keeping your athletic dreams just out of arm's reach.

But not any more. Brothers 105 is truly the best of both worlds, a full flavoured hazy IPA packed with aromatic Mosaic and Simcoe hops, but with only half the carbohydrates of our regular craft brews.
Brothers 105 is the perfect beer for active lifestyles: low carb, maximum flavour, no compromise!
ABV: 4.5%

Hoppiness: 4.5/5
Maltiness: 2/5

Enjoy a guided tasting with our head brewer Brandon here